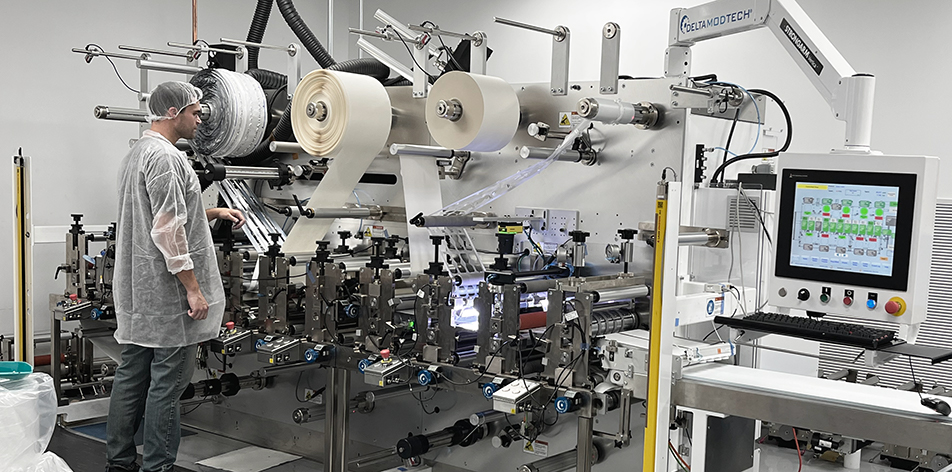 Material converting is the process of transforming raw materials into components, disposable devices, or complex, multi-layer products through a variety of fabrication processes.
At ATL, converting involves numerous manufacturing processes. Some of these custom material converting processes include precision rotary die cutting, kiss cutting, slitting, sheeting, perforating, scoring, rewinding, multi-layer laminating, cold seal packaging, island placement, and printing.
As a 3M Preferred Converter, one of only a handful in the US, we have the experience and capability to convert flexible materials into finished products in roll, individual parts, or sheeted format.
We use industry-leading, narrow web, rotary die cutting presses with advanced servo technology, closed-loop registration, and in-line vision inspection, along with the best craftsmen in the business, to manufacture precision products for many markets and applications.
Material Selection
Single and double-coated tapes and transfer adhesives can be used to achieve desired results. ATL can assist with material and adhesive selection.
Adhesives
Films
Fabrics
Foams
Foils
Hydrocolloids
Hydrogels
Inks
Non-wovens
Papers
Tapes
Markets and Applications
It takes the right mix of material knowledge, precision equipment, and technical expertise to manufacture multi-layer, die cut products.
Consumer Goods
Construction
Electronics
Healthcare & Hygiene
Industrial
Labels
Medical
Personal Care
Pharmaceutical
Quality System
ATL is committed to continuous improvement. Our Quality Management System (QMS) provides a solid framework to ensure risks are understood and processes are in control.
In partnership, our team will help you determine the best raw materials, product design, and manufacturing process to meet your product's performance requirements.
ISO 13485:2016 Registered
FDA Registered Medical Device Manufacturer
cGMP Compliant to 21 CFR 210, 211, and 820