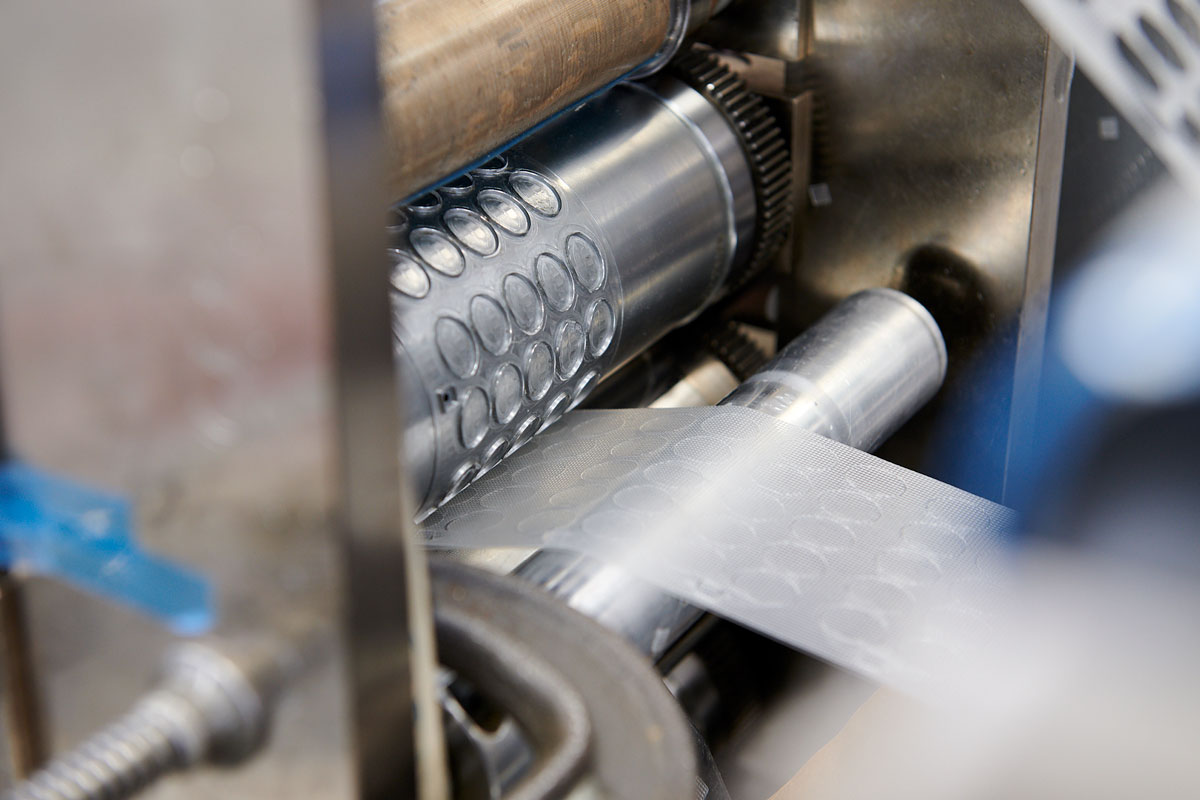 For more than 30 years, ATL has been manufacturing custom die cut components for customers in a wide range of markets. Due to the versatility and customizability of die cutting, this manufacturing process produces a wide range of products, from custom labels to disposable medical devices.
Our capabilities include:
Rotary Die Cutting
Metal to Metal Sheeting and Die Cutting
Flat Bed Die Cutting for Small Run Prototypes
Tight Tolerance Die Cutting and Slitting
Island Placement
What is a Die?
A die, also referred to as tooling, is a tool used to cut a shape out of a material. One of ATL's primary specialties is rotary die cutting, which is a special kind of die cutting that uses a cylindrical die to cut shapes out of material. As the die moves around in circular motions, the blades on the die cut out the desired shape. Rotary die cutting is suitable for a variety of materials, including plastic, paper, foam and laminates.
Benefits of Rotary Die Cutting
Die cutting presses are capable of cutting a wide range of designs with several advantages. Some of these advantages include:
Reduced Material Waste
Consistent and Uniform Cuts
High Volume Production
Speed to Market
With a custom rotary die, the design is engrave into the tool, allowing the cuts to be easily repeated with a high degree of precision and accuracy. Through this process the precision and accuracy helps reduce material waste as the die cuts can be spaced within a tighter tolerance. The dies' solid construction provides durability and longevity, decreasing the need for replacement during production runs which shortens lead times.
Custom Die Cut Labels
Every label made at ATL is a die cut label. Over the years, ATL has seen thousands of labels varying in shape, size, colors, and materials. Because die cut labels are so customizable, they have an unlimited number of application uses and can be found in nearly any market. At ATL, we make labels that can be applied to food & beverage products, consumer goods, chemical containers, industrial enclosures, pharmaceutical bottles, and so much more.
Custom Die Cut Medical Devices
ATL utilizes rotary die cutting to manufacture custom die cut components for the medical device industry. These components consist of one-time use disposables with skin sensitive adhesives, hydrocolloid and wound care products, and complex multi-layered material constructions.
As an experienced 3M Preferred Converter of various medical grade materials and adhesives, we can help you through your product design and development stages.