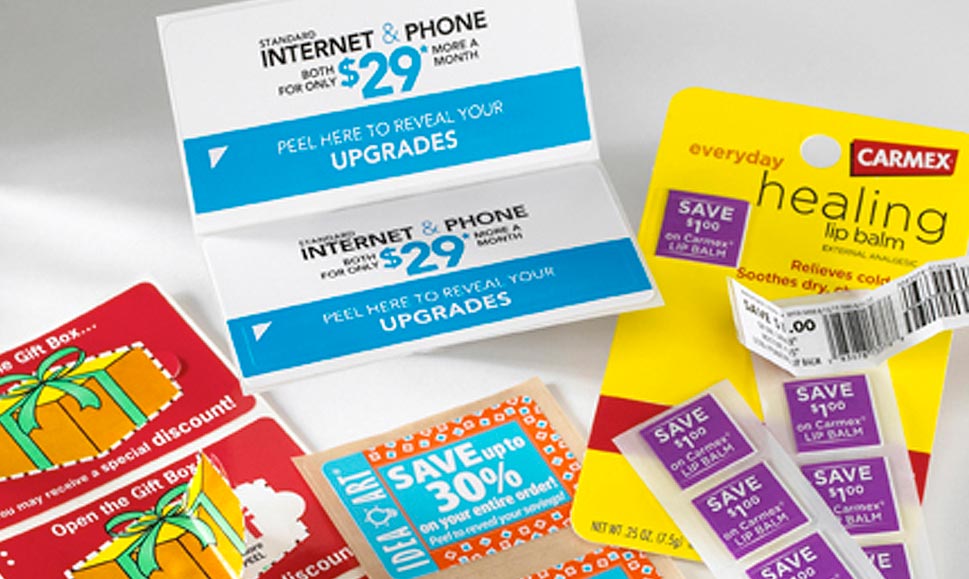 Instant redeemable coupon labels are a great way to drive impulse purchases, encourage larger purchases, promote other products and offer rebates. Shelf space is highly competitive, and creating a label with a IRC is a great solution for a point-of-purchase promotion. IRC labels are commonly constructed as a three panel label with a front, back, and base, to allow for extended content without taking up extra space. With flexographic and digital printing capabilities, we can print variable data and full color images for eye-catching results. ATL's instant redeemable coupon labels and clean release cards are an ideal option for:
Temporary or seasonal membership cards
Sales promotions or discounts
Coupons
Business cards
These instant redeemable coupon labels can be hand or automatically applied to your product, direct mail piece, magazine, or catalog, and then cleanly removed by the end-user, whether its a direct mail piece, magazine, or catalog. A patterned varnish can be printed on the front of our clean release cards and IRCs for personalization.