Stick to Skin Cover Tapes for Constant Glucose Monitoring Devices
Over 10% of the American population ha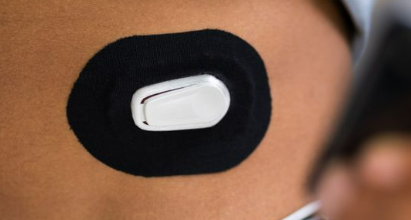 s diabetes and almost 1 in 3 Amercians are pre-diabetic. Traditionally patients have had to rely on pricking their finger to monitor their blood glucose. Today, constant glucose monitors (CGM) devices are wearable devices that make monitoring and regulating their insulin levels automated and more accurate. These CGM devices have a lancet that penetrates the epidural layer of the user's skin and can monitor the user's blood glucose levels for up to 14 days. 
Some CGM devices are being manufactured for wear times up to 21 days which makes having an extra layer of tape for protection necessary for day-to-day activities. 
The Challenge 
 In the world of CGM devices, it is critical to have skin safe adhesive that is gentle yet durable. CGM wearers need biocompatible tapes that can stand the test of time, whether it be from water, dirt, sweat, and/or debris from daily use. Not only does the material need to adhere to your skin securely, but it also needs to be comfortable with a "forget it's there" feel. 
When it comes to stick to skin adhesives, you want the best adhesive material that will not harm or injure your skin. For cover tapes, due to the requirements for up to 21-day wear times, many CGM wearers are looking for a unique material that is breathable, waterproof, sweat-proof, hypoallergenic, and over all skin safe. 
The Solution 
ATL helps medical device and health care companies manufacture more reliable, innovative, and feature-rich medical devices. As a 3M preferred converter, ATL has access to technical materials that have unique material feature requirements, such as the cover tapes for CGM devices. 
3M MedTech's latest technology in stick to skin materials has adhesives with up to 21-day wear times, and single sided elastic nonwoven fabric with four way stretch to have that "forget it's there feel. 
ATL has extensive industry experience in helping medical device and health care companies bring their products to life. Many CGM manufacturers rely on ATL's engineering expertise to develop custom shape CGM tapes to market. 
Looking for a full-service tape converter and adhesive specialist? Give ATL a call today and speak to one of our technical experts to see how we can help with your next project.