New Delta Modtech Equipment Enables ATL to Accelerate Growth in Medical Converting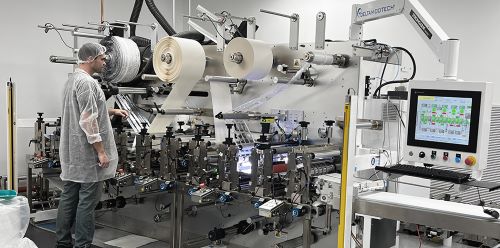 ATL Corp, a trusted leader in flexographic and digital printing, rotary die cutting, and clean room manufacturing, recently invested in new Delta Modtech converting equipment. 
The new converting system will be added to a fleet of Delta presses at ATL and will be used right away to support new sales growth. The equipment will be installed in an ISO class 7 clean room and be used to manufacture high volume, wearable medical patches with demanding requirements. Some of the features and benefits of the converting equipment include: 
Advanced controls and closed loop registration 
Servo controlled rotary die cutting, nipping, laminating, printing, and winding 
Intelli-MOD control system and intuitive HMI touchscreen interface 
Multi-layer laminating 
Island placement 
Inline printing
"We have used Delta Modtech converting equipment for 20 years. Our partnership has been mutually beneficial and has provided us with the best technology to deliver high quality products to our customers. Delta has certainly helped us grow," said Jason Hynes, President. 
ATL has been helping medical, health care, pharmaceutical and industrial companies bring their products to life for nearly 70 years. As an ISO 13485 certified, FDA registered, and cGMP compliant manufacturer, we are here to help you bring your next product to life. 
Looking for a full-service printer, converter, or adhesives tapes expert? Give ATL a call today to speak to one of our technical sales representatives.