Narrow Web Printing for Flexible Packaging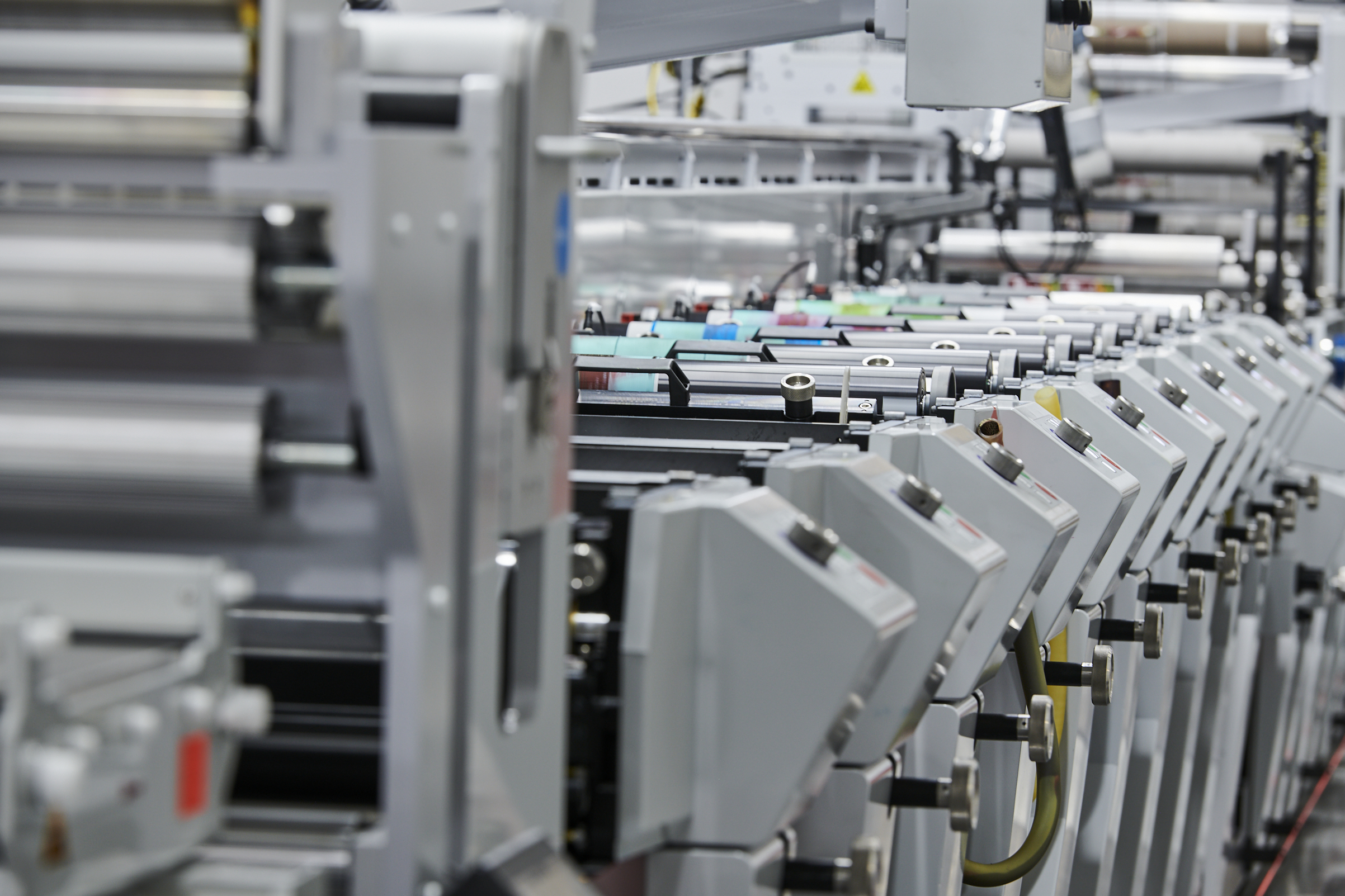 Enhance your Flexible Packaging with Flexographic Printing
Flexible packaging is one of the fastest growing segments in the packaging industry, and with more brand competition than ever before, there is no question why. Not only has there been major advancements in technology and construction, but this packaging technique can also add branding value to any product through flexographic printing.  
What is Flexographic Printing?
Flexographic printing is a cost-efficient method for medium to large volume runs, making it a superior option for printing on flexible packaging. Flexible polymer printing plates are digitally produced and wrapped around rotating cylinders on a web press. The printing plates have a slightly raised image that transfers the ink onto the packaging material at very high rotation speeds. This printing style is suited for mass production and short lead times.  
Advantages of Flexographic Printed Packaging 
With the printing capabilities of flexo, the branding and design possibilities are limitless. At ATL, we have 17" narrow web flexographic printing capability for up to 10 colors with water-based, UV, metallic inks, and more. There are many benefits to adding flexographic printing to your packaging materials. 
Increased Sales
There is no doubt humans respond positively to packaging that has trendy designs and colors. Studies show that people make subconscious decisions about buying products within the few minutes after observing it. Flexographic printing offers an infinite range of design flexibility.  
Increased Brand Awareness   
With fierce branding competition, many companies recognize how important it is to expose their brand at every opportunity. Branded packaging offers an additional touchpoint and can enhance the customer's experience, which will help distinguish you from your competitors. Adding this additional value to your product not only increases your brand awareness but also customer loyalty. Customers appreciate companies that go the extra mile. By using the right printed packaging design that appeals to consumers, your company will be able to build a strong connection and turn first-time customers into repeat buyers. ATL has the capability of matching any color on the spectrum, offering high-quality logo and branded flexible packaging designs.  
Time and Cost Savings 
Printing directly onto flexible packaging film eliminates time and costs associated with labels and other branding materials. This allows for minimal inventory, reduced waste, and faster turn around times to get your product to market. By taking advantage of flexographic printing, your flexible packaging material will have high-quality branding at high-speed production volumes; creating cost-efficient results. 
Our Capabilities
ATL is a narrow web flexible packaging film printer. With nearly 70 years of printing experience, our Graphic Design and Pre-Press team have the knowledge and technology to deliver consistent high quality products. No matter what design you need, our full service team will walk you through the printing process, from design to delivery, to help you develop the best printed flexible packaging for your products.
Contact one of our Technical Sales Specialists today to learn more about how flexographic printing can enhance your flexible packaging product.