Everything You Need to Know About 3M VHB Tape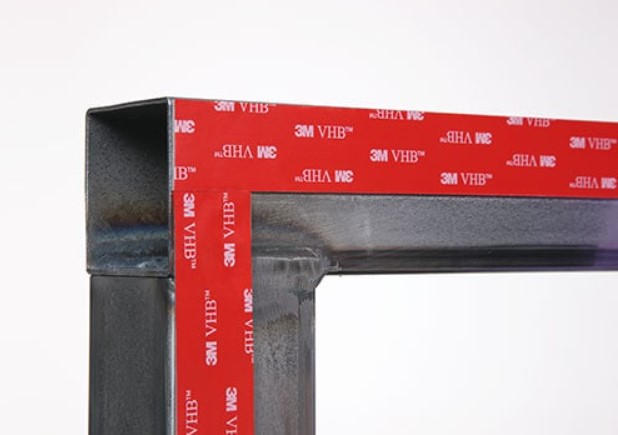 VHB stands for Very High Bond - and 3M's tape absolutely lives up to the name. With 3M VHB Tapes, you can maintain consistency from sketch to construction, eliminating distracting, visible fasteners, like screws and bolts. These high-strength, double-sided acrylic foam tapes let you quickly and easily create a long-lasting bond that actually builds strength over time. With the ability to join a variety of materials including aluminum, steel, glass, plastics, and painted and powder-coated surfaces, they provide resilient bonding solutions in just about anything you can dream up. Introduced in 1980, VHB tape has been validated through continuous testing and countless real-life applications. 
How does it work? 3M VHB Tape is made up of closed-cell foam and solid acrylic adhesive and is highly viscoelastic. This means that they both absorb and disperse energy. The foam core reduces long-term stress on the bond making the adhesive extremely durable. The closed-cell foam properties make a bond that creates a permanent seal against environmental elements. 
Benefits of 3M VHB Tape 
3M VHB allows for innovative design possibilities to enhance existing products. Three of the major benefits provided by 3M adhesive tapes include appearance, performance, and productivity. 
Appearance - 3M VHB tapes possess a virtually invisible fastening profile that provides a clean, smooth surface and visual appearance. 
Performance - 3M structural adhesive VHB tapes are strong enough to replace a variety of fasteners, including rivets, screws, spot welds, and liquid adhesives. They provide superb performance and long-term durability for outdoor and indoor applications. 
Productivity - The versatility, ease of use, and speed of application provided by 3M VHB tapes enable increased productivity and cost reductions. This tape also negates the need for major equipment. 
Industries, Applications, and Uses
After 40+ years on the market, 3M VHB has become a proven solution for many industries. As a testament to its versatility, the tape delivers unique advantages to each type of application. 
Transportation - Designed for a smooth side and durable ride, 3M VHB Tapes withstand the extreme heat and cold, vibration, moisture, and UV light specialty vehicles encounter on the open road. Unlike rivets and screws, they provide a barrier sealed against any kind of weather. 
Metal Fabrication - Boost productivity on the assembly floor with the efficiency of tape. Compared to rveting and welding, 3M VHB Tapes are easy to adopt and require no finishing. A long-lasting bond is as quick and simple as applying the tape.  
Construction - When it comes to bonding exterior panels on high-profile buildings like the Chicago O'Hare Airport and the Walt Disney Concert Hall, architects trust 3M VHB Tapes to permanently adhere one substrate to another while distributing the stress load across the entire length of the bond. 
Electronics - 3M VHB Tapes provide top-notch design flexibility while meeting the high standards of the electronics industry. They've been used to bond everything from high-definition television screens to moisture-sealed nautical navigational systems.
Signage - When you eliminate the need for screws and rivets, your design can truly shine. 3M™ VHB™ Tapes enable a smooth surface with a virtually invisible bond, for a sleek, eye-catching sign that will stand up to the elements.
Appliances - Enhance your appliance's aesthetic with virtually invisible bonding – a game-changing approach for design concepts. Explore new possibilities and use new, innovative materials to optimize performance and streamline production processes.
An Expert Converter You Can Trust 
As a preferred 3M Converter, ATL is here to assist with material selections, application questions, and custom converting. With five VHB tape families and dozens of applications, selecting the appropriate tape for your application can be a challenge. ATL is here to help with material recommendations based on the required size, type, substrates, application temperature, and industry specifications. ATL can custom convert VHB tape to nearly any size or shape depending on your application needs. 
To read more about the wide range of applications, Click Here to check out 3M's website.
Looking to source or custom convert 3M VHB Tapes? Contact one of our Techincal Sales Representatives today! Give us a call at 262-255-6150.