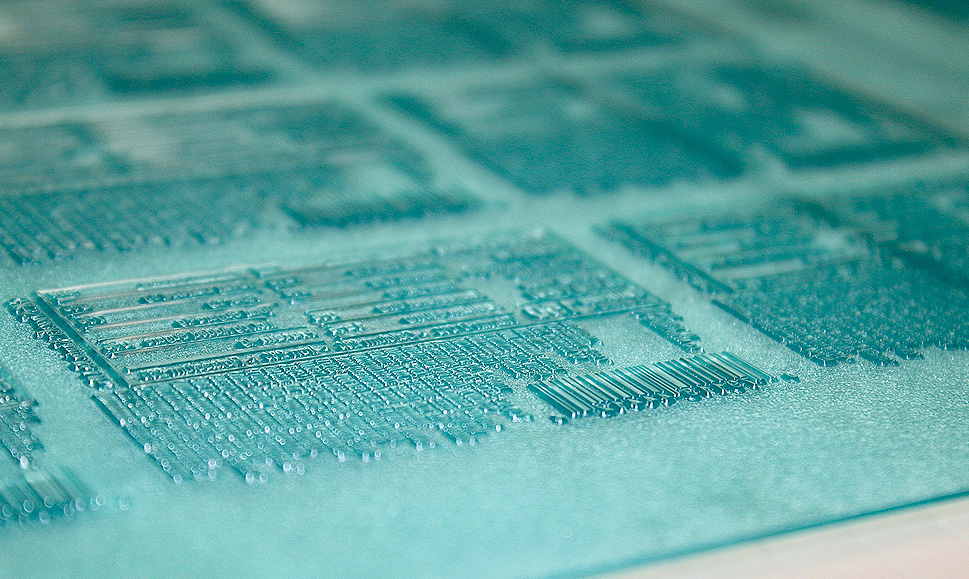 Flexographic Printing Plate Flexographic (flexo) printing is a cost-efficient method for medium to large volume runs on various paper and film substrates for direct mail, industrial, product identification, medical, pharmaceutical and cosmetic labels. Our flexo printing capability includes web widths up to 17", 10-colors, multiple die cutting stations, water-based, UV, and metallic inks.
How Flexographic Printing Works
Flexographic printing uses flexible polymer printing plates wrapped around rotating cylinders on a web press to transfer ink. The inked plates have a slightly raised image and are mounted onto plate cylinders. These plates are then loaded onto the flexographic press, with each required color positioned in successive print stations. As each roller rotates, the plate collects ink from the ink roller, also known as an anilox, which transfers the inked image onto the substrate. The wet ink then passes through a dryer before the next color is printed. This printing style is equipped for mass production.
What is Flexographic Printing?
It gets its name from the Latin word "flexus," which translated means "bending." Flexo printing can be used with a wide range of materials, including:
Papers
Plastic films
Metallic films
Corrugated cardboard
Foils
Non-woven fabrics
Multi-layer composites
Advantages of Flexographic Printing
Flexo printing can be done with a wide variety of substrate materials, delivering high-quality products at high-production speeds.
Cost-Effective
High Quality
High-Speed Production
In-Line Converting
Short Lead Times
Versatility
Flexographic Labels
Custom labels printed on flexographic presses give a wide range of design flexibility and can be printed at fast speeds providing a reasonable cost for larger orders. With the wide variety of materials and inks, flexographic labels have an abundance of design possibilities and usages. ATL is capable of matching any color on the spectrum, offering eye-catching and versatile custom label solutions. When it comes it substrates and surfaces, flexo printing is the best option for printing on porous and non-porous substrates. This versatility in custom flexo printing is a great option for consumer packaged goods, flexible packaging and pouches as well as custom labels.
Custom label printing is what we do. If you need assistance in the development of your custom label construction, our Graphic Arts, Pre-Press, and Engineering teams are available to share their printing and converting knowledge. We partner with leading suppliers and have access to the latest materials, equipment, and technology to ensure your product achieves the goals you have set.
Products & Applications:
Brand Security & Protection Labels
Chemical Labels
Coupons
Direct Mail Labels
Double-Sided Labels
Durable / Industrial Labels
Extended Content Labels
Flexible Packaging
Fluorescent Labels
Foil Labels
Holographic Labels
Ingredient Labels
Label Sheets
Packaging Labels
Pharmaceutical Labels
Product Labels
Pressure Sensitive Labels
Medical Labels
Multi-Layer / Piggyback Labels
Scratch-Off Labels
Shrink Sleeves
Specialty Labels
Tags and Tickets
Tamper Evident Labels
Thermal Labels
Warning Labels
Waterproof Labels